CAR WASH SPOT FREE RINSE SYSTEMS
Commercial Reverse osmosis is the most effective and environmentally friendly way to take the minerals out of the water and the majority of the car washes use this today.  The only issue with reverse osmosis is the waste water.  Waste water is required to carry the minerals away from the membrane so they will not clog up and stop producing the mineral free water.  In most cases, reverse osmosis requires a minimum of three gallons of waste to one gallon of product water.  Vibrant Water has engineered all of their systems to produce at a rate of one gallon of product to one gallon of waste.  In addition, Vibrant Water has engineered the waste water to be reclaimed and used as the initial wash or rinse water resulting a no waste system.

AUTO DETAILERS/WINDOW WASHERS
SPOT FREE RINSE SYSTEM
Eliminate D.I Tank expense
Typically pays for it self within 12 months
System will produce up to 400 gallons per day
Produces <10 ppm of mineral free water
Very low maintenance
Very low energy expense
Water Saving Technology
Thin Film Membrane
Flow meters for production monitoring
Fluid filled gauges for filter monitoring
Spot Free Reverse Osmosis Testimonial:
"I am a Auto Detailer from Del Mar, California.  I was referred to Vibrant water from another customer of theirs.  I was spending $250.00 a month plus standby fees, plus exchange fees on De- ionized water for spot free water from a large water treatment company.  The Managing Partner of Vibrant Water came down to my office, took a sample of my water and said he would get back with me with his recommendations and pricing for a system he thought would outperform and be more economical than my current system.  WOW was he right!  For less than $2000 I got a spot free reverse osmosis system that works incredible.
I could not be more satisfied from the products and services of Vibrant Water.  To top things off, because I was a small business person, they gave me 90 days same as cash.  In just a couple months, I will have no more spot free rinse expense after a minimal investment.  Oh yea, I almost forgot, I use this system for drinking water as well.  It tastes amazing and I have eliminated another expense, my bottled water for drinking.  I was so pleased with my product, I wrote a memo about the water I use to detail my vehicles and with a link to Vibrant's website."
Daniel Smith, Owner Aqua Mobile Detail
AVAILABLE OPTIONS
Automatic float shut off system
Timed shut off system
Storage / Fill tanks
Hydro Pneumatic Tanks
Water quality meter
Low pressure warning lights
Certified Installation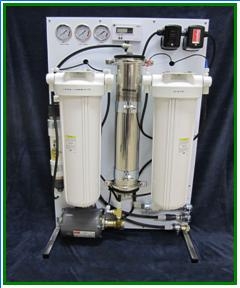 Specifications
115V / 6 amp pump
1/2" inlet and outlet
1/2" drain
S/S Frame
S/S membrane Housing
ESF Scale Inhibitor
350 gpd Thin Film Membrane
KDF/ Carbon Pre-Filtration
Minimum feed pressure 25 psi
Maximum feed pressure 75 psi
Membrane flush valve
For more information on Spot Free Rinse Systems give us a call at 760-734-5955.