Nanofiltration System Water Filters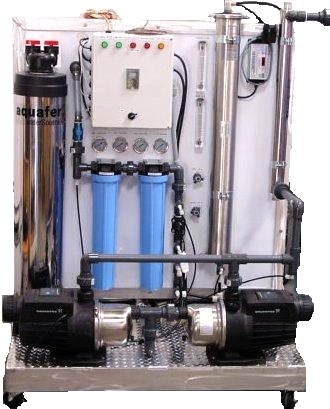 All nanofiltration system items except atmospheric storage tank mounted on an aluminum skid with wheels for ease of installation.
Entire unit without atmospheric storage tank(s) measures 48" wide X 25" deep and 61" tall.
Maxi-Cure 3000 unit for pre-treatment.
NANO unit with thin film element. Designed for 75% recovery and 66% rejection.
Rotary vane pressure pump.
Three pressure gauges.
Waste and product flow meters.
High and low pressure safety switches.
Two 2.5" X 20" long cartridge pre filters. 5 micron and carbon block.
Re-circulation and drain valves.
Automatic flush on start up.
Three tank level switches. System on/system off/re-pressure pump control.
Automatic controller with four status lights.
TDS monitor on treated water line.
Complete 12gpm @ 50psi re-pressure pump system
UV light on outlet as final protection
Unit completely tested on a pallet suitable for LTL truck shipment
One 300 gallon tank 35" diameter X 81" high.