BORON REDUCTION UNIT
COMPLETELY ASSEMBLED AND TESTED UNITS FOR DIRECT USE OR AS POST REVERSE OSMOSIS SYSTEM POLISHING FOR BORON
Boron is an element most often found in seawater or in water supplies that have been contaminated by seawater intrusion in wells. Boron in our diet from all sources (plants and water) up to a maximum of 20 mg/day can have positive effects on the brain, immune system modulating and hormones. Problems With Boron arise in agriculture because it is toxic to many plants ESPECIALLY CANNABIS!
Because Boron has an extremely week electrical charge, it is difficult to remove even with high pressure reverse osmosis membranes (even desal) unless horribly expensive 2 pass systems are used and even then, remaining Boron is often too high.
Enter the revolutionary Vibrant Water system utilizing a very unusual and efficient ion exchange resin that can seek and remove Boron directly from the well or from RO permeate. Essentially a water softener with a special regenerant control as shown to the right of the pressure tank below and a smart controller shown to the left.
Once water chemistry is determined and a volume/flow of water is expressed a boron reduction unit is designed that:
– Meters the volume of water that has been treated and automatically starts a regeneration
– Backwashes out any collected debris
– Draws in hydrochloric acid to dissolve the Boron off of the resin
– Rinses the Boron laden acid to drain
– Flushes the resin clean
– Draws in sodium hydroxide (caustic soda) to neutralize the resin
– Rinses and then flushes the caustic soda out
– Returns to providing Boron removal
The use of acid and caustic is highlighted. These are dangerous and corrosive materials that must be handled by trained and experienced personnel wearing protective gear.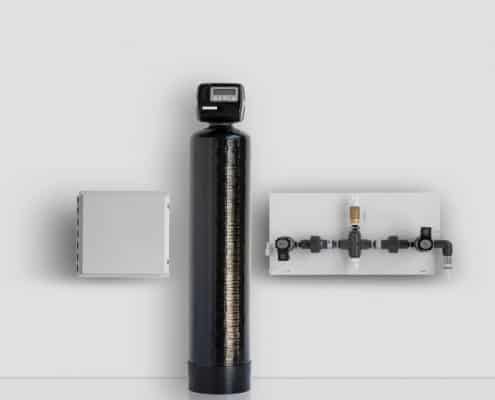 UPPER BORON LIMITS –mg/l**
<0.5 blackberry, CANNABIS
0.5-1 peach, cherry, plum, grape, onion, garlic, sweet potato, wheat, barley, strawberry
1-2 red pepper, pea, carrot, radish, potato, cucumber
2-4 lettuce, cabbage, celery, turnip, oat, corn, artichoke, tobacco, squash
4-6 tomato, alfalfa, parsley, sugar-beet
6-14 asparagus
** Information by Australian Dept. of Agriculture